Washing the exterior of your car isn't enough to keep it clean. You should provide suitable cleaning of its upholstery and this is work which needs the use of specialised machines and preparations.
Our staff can offer you excellent car upholstery cleaning in Catford which has excellent results and will improve the quality of the air in your vehicles.
Natural and synthetic fabrics tend to gather all kinds of harmful allergens, dust, stains and soiling. This leads to staining, darkening of the upholstery, allergies and health issues.
Unrivalled Car Upholstery Cleaning Catford
The cleaning which we carry out includes the following procedures:
Inspection and testing of the cleaning products
Hoovering and removing of the larger dirt particles with brushes
Pre-spraying stains, spillages and darkened areas
Steam cleaning and drying with machines
Dry cleaning leather fabrics
Deodorising the cleaned areas
Fill the form for a free quote!

The cleaning which we provide is effective and gets deep in the fabric of the upholstery to remove dust, soiling, allergen and stains. Our staff vacuum the seats and headrests to gather larger dirt particles. They spray the dark spots, smears and spillages to remove them and apply steam cleaning on the upholstery to disinfect it well.
Professional Car Upholstery Cleaning SE6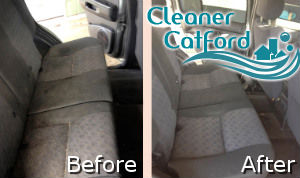 Our cleaners use modern machines that work with heated cleaning solution and extract the dirt effectively. They dry the surfaces with industrial dryers and deodorise them. We carry out unrivalled car upholstery cleaning in SE6 which brings long-lasting results. It is necessary to provide professional cleaning of your car interior a couple of times during the year or oftener if you use your car every day.
We offer professional cleaning of upholstered car surfaces which leads to refreshed and healthier interior of the vehicle. Our staff know how to make your car seats, mats and headrests well sanitised and rid of the allergens. The procedures they implement are carefully chosen and done in accordance with the type of the fabric.
Leather seats are sanitised with special detergents designated for them. Use the services of our experienced cleaners to receive high-quality car upholstery cleaning in or near Catford, SE6 and you will be pleased with the results.